Schematic wiring diagram
The schematic wiring diagram shows the connection of the control unit with the pilot interface (with switches, buttons and LEDs) and the aircraft installation (motor, brake, limit switches).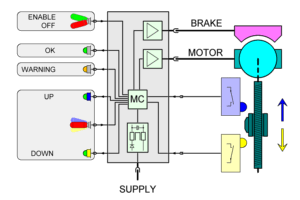 Individual boards
The power board has the power stages to drive the motor and the power-off brake and various protective measures for the operation according RTCA DO-160.
On the micro-controller board are the connectors for the pilot interface and also various protective measures.